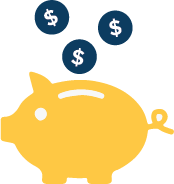 How much can you save with Ovia Health?
Request a custom
ROI Report to find out
How is this calculated?
With Ovia's custom financial impact calculator. It's based on years of clinical research, analysis of billions of data points shared on the Ovia Health platform, as well as third party claims and book of business validation.
Our Clinical Research Group monitors and analyzes client outcomes and ROI metrics on an ongoing basis. They also conduct real-time aggregate reporting to examine the impact of Ovia Health's solution across our book of business, providing the foundation for an ROI model that delivers evidence-based insight into the value of an investment in Ovia Health.
This validated ROI model demonstrates Ovia Health's impact in the 7 key areas that impact maternity healthcare spend the most: infertility treatments and multiple gestations; preterm delivery and NICU stays; preeclampsia; C-sections; working parent retention; breastfeeding; and perinatal mental health conditions. An improvement in any of these areas — whether that be a condition avoided or a behavior improved — carries with it a cost avoidance of between a couple hundred dollars and several hundred thousand dollars, per member.
Our digital maternal health solution has a proven ability to improve health outcomes and drive ROI for partners. How? We have:
50+ evidence-based clinical pathways to prevent adverse outcomes
Accessible clinical guidance that drives daily engagement
Virtual access to registered nurses and health coaches 7 days a week
Predictive AI to enable proactive clinical interventions